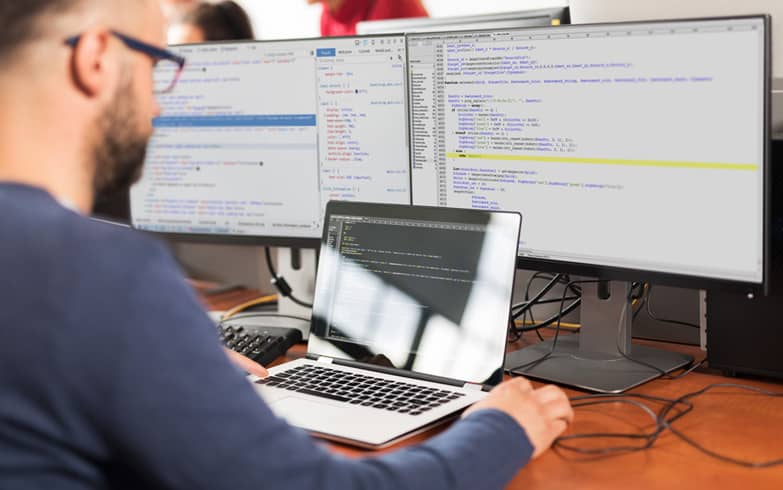 Service Overview
Being one of the early contenders in the IT space, Kumaran Systems has thrived by enabling wholesome digital transformation to our clients.
Kumaran has delivered exemplary IT consulting and ensuing Application Lifecycle Management services to improve cost-effectiveness, reduce redundancies by building enhanced information architectures, and modernizing the legacy systems to exponentially improve organizational excellence and throughput.
Application Design & Development
Highly functional and structured services that design and development services
that enable considerable cost savings, improved quality, process improvements, and most importantly the benefits of high
offshore staffing ratios.
Solution architecture
& design services
Enabling your organization to best understand technology and chart out the most efficient software architecture to accelerate your business potential
Prototype development
services
Kumaran's expertise in developing complex applications enables us to shape your novel ideas to best understand their feasibility in the market
Application enhancement
services
Upgrading the capabilities of your existing applications to accommodate the latest technology features to meet your dynamic business requirements effectively
Application Maintenance & Enhancement
The finesse of Kumaran's services extends beyond design and development to
application maintenance and enhancement through extraordinary after delivery maintenance support and
application enhancement initiatives
Corrective
Maintenance
Modifies an application to effect permanent fixes to correct, eliminate, or minimize the impact of known defects.
Production
On-Call
Responding to Severity
Service Incidents through on-call
support for application support
services, to resolve high-severity
problems
Application Assessment &
Performance Management
Measure the performance of and
benchmarking of business
applications against predefined
performance indicators and
target values.
Continuous
Improvements
Suggest innovative technical ideas to streamline applications, after analyzing various production support metrics with the patterns and trends.
Helpdesk And
Support
We can set Requests for Change (RFC) based on priority, through Corrective, Preventive, Adaptive, and Perceptive maintenance
Kumaran's Approach
for Maintenance
Kumaran's four-stage approach
comprises application maintenance
and production support that is
supplemented with a unique set of
additional processes, which bring
measurable cost advantage and
operational efficiency
Initiation
Assessment
Finalise Scope
Requirements
Contract
Environment
Setup
NDA
Prioritization
Communication
Strategy
Knowledge
Acquisition
Business
Process
Technology
Standards
Execution
Strategy
History
Analysis
Documentation
Transition & Pilot
Clarification
Pilot Planning
Pilot Execution
Tracking Metrics
Reporting
Improvement
Plan
Operational State
Emergency Data
Fixes
Emergency
Code Fixes
CR Planning &
execution
Tracking Metrics
SLA Reporting
Causal Analysis
Kumaran's Value Proposition
Profound expertise in diverse verticals, years of experience, and colossal collaborations have
equipped Kumaran with resources and knowledge base to deliver exceptional ALM services
that create ample business value to your organization
Frees up your valuable IT staff
and resources for core business
initiatives
Brings best-of-breed
technology solutions
to complete the task
Deploying Variable Cost
Method for improved cost
advantage
Lowered cost of
ongoing support
Continuous assessment of application
stability parameters for enhanced
application stability
Articulating resources
and eliminating wastages for
optimal efficiency
Significant
improvement in
application stability
Cost reduction due to
our variable cost
approach
Meeting the business
requirements
on time
Reduced risk
of operations
Improved maintenance
productivity
Let's Talk About Your Needs
Transforming painpoints into efficiencies