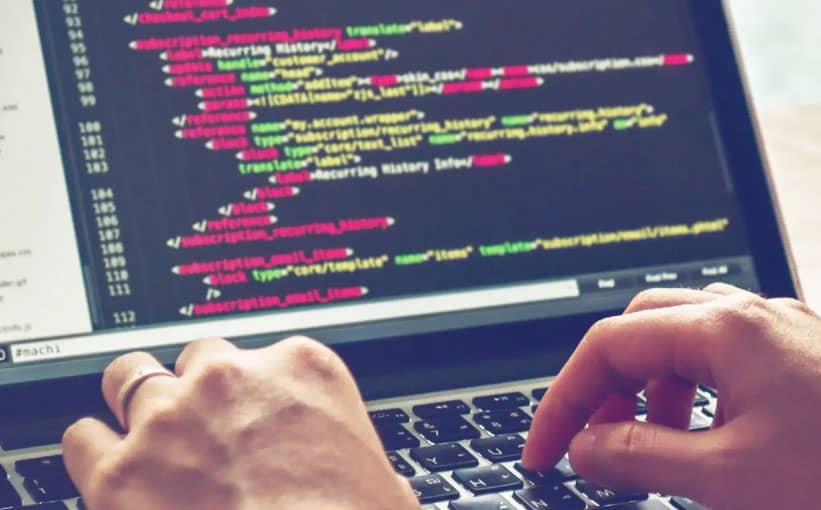 Oracle Forms Modernization Overview
Legacy systems are an organization's biggest IT assets with millions of investments, decades of development from generations of a team supporting critical business functions.
Kumaran, a pioneer in Oracle Forms Migration offers enhanced flexibility to your enterprise by modernizing and migrating your legacy systems through our Oracle Forms modernization solution.
Augment Your Legacy Applications Through Latest Upgrades & Technologies
Pioneer in
Oracle Forms
Migration
Forerunners in the Oracle Forms Migration space, since its inception delivering Forms migration solutions of immense value
Seamless Oracle Forms Migration
powered by automation tools
Proven, refined and a highly automated Oracle migration solution through our proprietary tools Forms* Converter, GUI Converter & Object Converter
3 Decades of
deep Modernization
expertise
30 years of Oracle Forms applications migration experience collaborating with a multiverse of industry backgrounds
Oracle Forms Migration – Solution Snapshot
Kumaran offers the following Oracle Forms Migration solutions. Customers can choose either of these options, based on their business requirements
Generating immense value through our line of Converter tools
Kumaran has perfected our Oracle Forms solution delivery by developing in-house tools and process accelerators to deliver exceptional Oracle Forms Modernization.
Kumaran deploys the coveted GUI Converter, Object Converter, and Forms* Converter into our solution delivery to catalyze the Oracle Forms Migration process and add further value to our customers.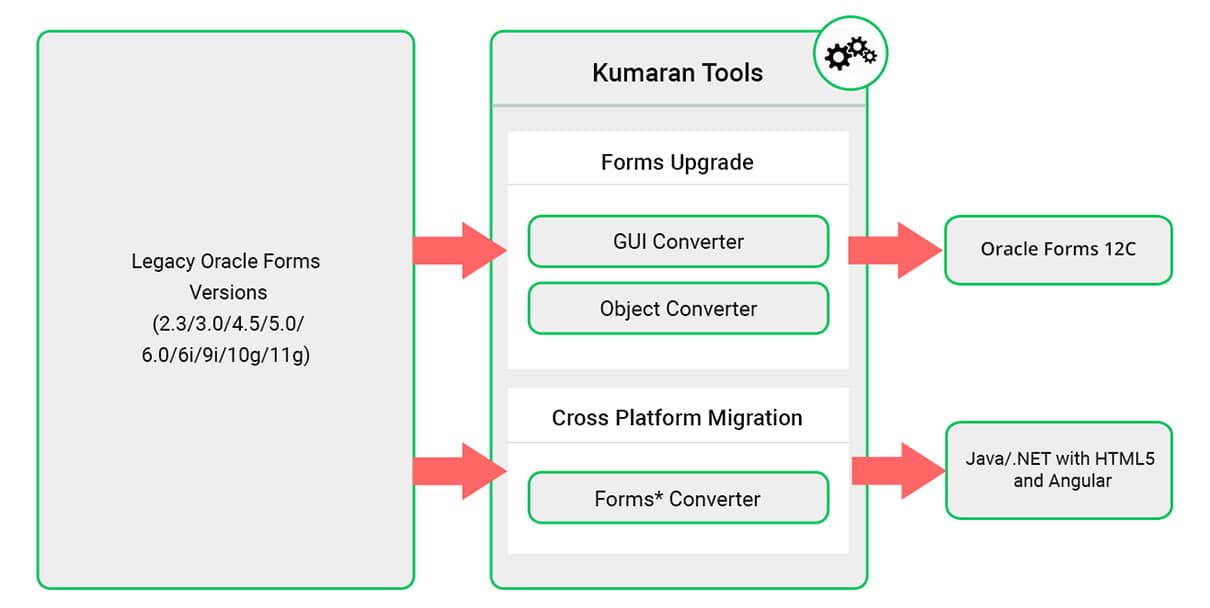 Oracle Forms Upgrade
Why and when you should upgrade your forms?
Take advantage of being
certified on modern
platforms
Performance and
scalability improvements
Easier and improved
integration
Compatibility with newer
Oracle products
Highest level of
security
Easy upgrades for future
Oracle Forms releases
Continued support from
Oracle (Documentation and
Patches)
Uninterrupted availability of
Oracle Forms developers
Kumaran performs Oracle Forms upgrades with the assistance of our indigenous automation tools GUI Converter and Object Converter.
Kumaran possesses the expertise and technology resources to convert the legacy Oracle Forms versions to the latest Oracle Forms 12c.

Minimize post
migration considerably
Eases the complete
migration process
Incorporates numerous
features into the product
in terms of the new
environment
Simple and a
powerful tool
Extensive UI that is
user friendly
Features of GUI Converter & Object Converter
Web Environment
Support
Object Libraries
Support
PL/SQL Upgrade
GUI Enhancements –
Text Items to Checkbox,
Radio, List, etc
Property Classes
Support
Visual
Enhancements
Visual Attributes
Support
Tool Tips
Calender Support
Database To File System
Reference
Referenced Procedures
To PL/SQL Library/
Object Library
Support Master
Detail Relation
Pop-up menus
Tab Canvas Support
Full Mouse Navigation
Support
Cross-Platform Migration
Why and When you should go for Cross-Platform Oracle Forms Migration
Cannot use/reuse the
legacy (Oracle forms)
skills
Retiring skilled
workforce
A requirement for
modern user interfaces
and experiences
Mobile
enablement of
applications
Open platform and
open support
requirements
Adopting
enterprise architecture
standards
Solution Definition
Kumaran transforms your older Oracle Forms applications to web platforms on JEE/.NET using the in-house conversion tool Forms Converter, to minimize the effort required for the migration.
Target Architecture

Solution Features
Tool-based automatic Oracle Forms
Migration as opposed to
rewriting
Reduces development time, as rewriting
involves moving to a new system based on
business logic, requirements, and
functionality that is already well defined.
No proprietary framework is
involved. The generated code is
target natural.
Relatively low-risk
development project because
of the reduction in time and
automation.
Functional testing efforts are
reduced greatly, as the code is
generated automatically based on
the source code.
Increased level of customization
and code maintainability in
JEE/.NET development standards.
Let's Talk About Your Needs
Transforming painpoints into efficiencies