As Cloud and Big Data continue to gain foothold in many industries, application modernization is clearly the need of the hour. So, what is legacy modernization? It is essentially reusing, migrating and modernizing existing or conventional business applications to newer technology stacks, in order to align them in line with the current business objective and derive new business value from existing applications.
It is essentially reusing, migrating and modernizing conventional business applications to newer technology stacks, in order to align them in line with the current business objective
The cost of maintenance of legacy systems, lack of adequate skill sets and other business risks are slowly but steadily pushing organizations towards modernizing their applications.
Legacy modernization may include any or all of the services namely Application migration, Application Re-engineering, Database Migration and Prototype Development Services.

Challenges in the legacy modernization environment
Legacy platforms are conventional platforms which may include Mainframes, Bull, Unisys and run on databases such as DB2, IMS/DB, IDMS with applications written in COBOL, PL/I etc. These systems that cost millions of investment dollars and decades of development are an organization's biggest IT assets owing to their core critical organizational functions. They are often complex, many of which are built on un-scalable technologies that are not geared up to meet the dynamic business needs, particularly when it comes to big data handling. As a result, enterprises run the risk of legacy modernization and losing the market advantage. Preserving embedded business decisions and business rules during legacy modernization is also often cited as the primary concern of most companies that take up legacy modernization.
Traditionally, legacy modernization included re-writing application codes to a web enabled programming language as most of the legacy application workflows were hardcoded. With ever changing technologies, some of the old legacy systems have been updated while most others are moving towards legacy application modernization on newer platforms. This helps enhance enterprise flexibility by migrating the legacy systems for better business responsiveness, mitigate risks and minimize disruption at a lower cost.
Legacy Modernization Advantages and Benefits
So, how do we preserve our data and business with a reduction in cost and impact to users even while ensuring functional compatibility with the legacy system?
Legacy applications are repositories of business knowledge. As an enterprise moves towards modernizing them, one needs to make sure that this knowledge is implemented, validated, and redeployed efficiently in the new system to ensure business continuity. Legacy modernization embarks a journey which embraces a holistic approach that is in line with the business goals.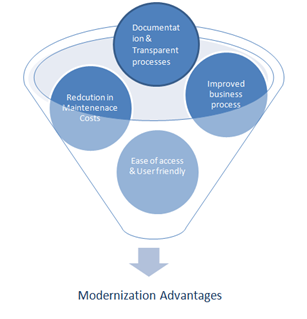 Some of the incremental steps in the direction of modernizing existing legacy systems are:
Improving User Experience – There is a focus in shifting from the character-based screens to rich Graphical User Interfaces (GUI). This improves online end-user experience and improves customer satisfaction.
Modifying Existing Applications – Portions of the application that are tightly coupled and cannot be easily modified to modern workflows need to be adapted to participate in the current modern workflows. In such cases, the entire application need not be phased out, but could be adapted and used.
Creating Newer Capabilities – New solutions need to be created and plugged into existing applications to adapt to market conditions. This can be achieved by proper analyses and re-engineering of existing applications.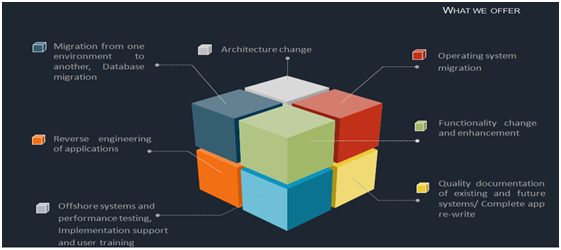 Legacy Modernization – Conclusion
As quoted by a VP of IT of a fortune 500 company on the future of their mainframe system "we have many projects that are approved based on easily visible ROI, but the biggest problem we have is right under our feet!"
Most often the ROI for legacy modernization is difficult to see because "it is working". But, the costs to maintain or change are escalating and skilled resources are in short supply. Costs to modernize will skyrocket in the future so the time for legacy modernization is now.